Lytefire Technology
Lytefire is designed to power food transformation activities, with direct solar energy, and at a lower cost.
The basis of the Lytefire technology is the simple concept of solar concentration. Using mirrors, the sun's rays are focussed on a small area, where the energy comes together to form heat.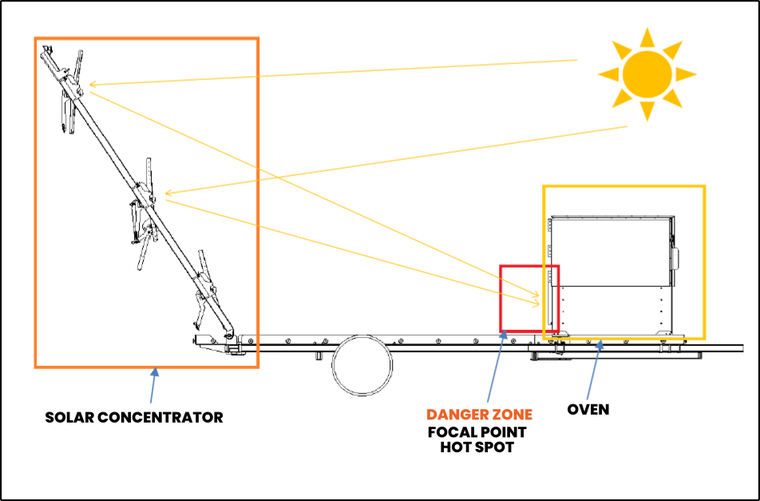 The heat reaches the application, such as a solar oven, stove or roaster and the heat is properly distributed. The Lytefire 5 reaches 300°C which is more than enough to cook (careful, it can be 900°C at the focal point). In the Lytefire Deluxe models, the light enters the solar oven through a special light window.
Lytefire is scalable and we have adapted the Lytefire for various tasks, be it cooking, roasting, and baking at different scales. We are constantly working on improvement and new applications. To stay updated, please join the newsletter!
We like to say that Lytefire is a mid tech product, meaning that if you build it yourself in your backyard, it will probably be "low tech" but if you purchase the factory product, it's not anymore.
The simplicity and solidity of this tech are core values to us. We know that we can make it much more sophisticated. But then the pricing will not allow the fast spread and this will slow down all the positive impacts a few millions of Lytefire can have on the global warming.
At the very beginning of the adventure, the first ideator wanted to create a solar system that can be 1) as powerful as an open fire (it would later be called a "solar fire"), 2) built with materials available locally and easy to maintain, and 3) easy to use and maintain by the users (read Our Story).
To learn more about the different Lytefires, their uses and technical specifications, visit our shop and explore the different Lytefire models. Check also the FAQ and don't hesitate to ask for more tech specs!
And please remember that all our customers have access to the Lytefire Hub where it's possible to share more directly about the tech.